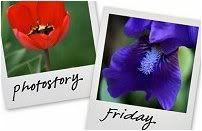 Hosted by Cecily and

MamaGeek
As I previously mentioned, after paging through all my recent photos, I noticed that an awful lot of my pictures are of someone in the family spending special time with Baby. My mind immediately went to a common thought that I have heard voiced time and time again by those who are not from big families and don't have big families. The concern has been this:
There is no way that you can give adequate attention to all of your children when you have so many.
First, I always find it interesting and slightly amusing that those who are of that frame of mind are those that have absolutely no experience whatsoever in this area of life. Gotta love those who are automatically superior in the knowledge of The Right Number of Children to Have just by the mere fact that they were of a teensie-weensie family and were showered with The Right Amount of Attention, therefore their knowledge base on the subject is much broader than One Who Is From or Has a Larger Family. I am from a family of eleven kids. I have memories of growing up that are rich,
rich
with love. I am still very close to my entire family. I think that it is so precious to have SO many people you are just so close to.
Alright, stepping down from my soapbox....In conclusion: I just
so love
how each child actually gets more and more attention. A comment from one of my Babes today sums it up nicely. We were sitting together on the couch, kind of amused by the three-year-old's spunking about someone having to accompany her to the potty
each and every one of the at least 100 times/day she goes potty.
My lovely eight-year-old said, "Well Mom, at least we've learned
one
very important thing from all of this! We need to remember
never
to spoil the baby of the family ever again! (she must have decided that we spoiled the three-year-old while she was the baby)"..and she chuckled and snuggled in to my shoulder, not at all too perturbed by the spunking going on.
One funny story I love to tell pertaining to big families: We on occasion get some really peculiar comments from people when they hear we are from large families. One of them was directed to my husband one time at work. The guys were sitting around at break one day when the attention turned to my dear hubby and he began to get a little grief about the fact he hopes to have a big family someday and that he also comes from a big family (he's from a family of ten kids). One genius snorted and chuckled a little bit, feeling mighty wise and exclaimed, "Har, har! Can you imagine how many times your parents had to
do "it" to have
that
many kids?"
Without missing a beat, my husband simply answered, "Yeah, ten times!"