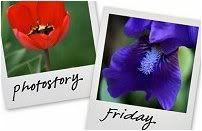 Hosted by Cecily and MamaGeek
Well, these young warriors were at it on the battlefield again.
After punches and pinches, pushes and pulls, it was time for a change of pace.
I asked the young warriors to cease fire but my plea fell on deaf ears.
Time for truce! I asked the young ladies to sit cross-legged on the floor with their knees touching.
Of course this request was met with resistance until the timer went from 2 minutes to 3, with promise for more time with non-compliance.
Reluctantly, the warriors sat cross-legged and grudgingly inched forward,
very
slowly and painfully, until...their knees met!
First, they wouldn't look at each other.
My next request was to face each other, look each other in the eyes and think about how they had hurt the other.
Within seconds, and I exaggerate not I tell you, they were giggling and saying, "Okay Mom! We're friends! Now can we get up?" I said, "Yes, as soon as the timer beeps. Now look your
friend
in the eye!"
When the timer beeped, I gave one final request, "Now, before you get up, give each other a hug and apologize!" Giggling and haltingly, as if their hands were filled with lead, they inched their hands together, got as far as hooking fingers, and gave each other a "finger hug". "
So-
rry!"
Well, I guess I didn't specify what
kind
of hug! The truce was made, "hugs" were given, and apologies extended. They left in giggles...and in cahoots...once again!